Mobile clinic at Camp Canaan
On Sunday a dream came true.   Organized by Rea Dol, women from Le Phare in Jalouzi and SOPUDEP including volunteer nurses  came together to provide the women of Canaan with their first mobile clinic. One hillside community coming to support women from another hillside community and together they climbed mount Canaan or as Jacques Roumain puts it
Today I work your field, tomorrow you work mine. Cooperation is the friendship of the poor [Masters of the Dew]
and Jean Bertrand Aristide
That [this] is the force of solidarity at work, a recognition that we are all striving towards the same goal, and that goal is to go forward, to advance, to bring into this world another way of being…………  I live in Haiti [In the Parish of the Poor]
There is no clinic in the whole of Canaan, a IDP camp of somewhere between 60,000 and 200,000 so for this group of women, members of Aide Humanitarian, Sunday was a special day.  The first tasks was registration and then on to receiving patients and handing out medication.
7 nurses attended 48 children 90% who had infections, flu and malnutrition. Of the 40  women who came, the majority had  vaginal infections and many also had eye infections from the dust plus 4 women were pregnant.  It was really an amazing day.  None of the women or children would otherwise have received treatment and even if they could have afforded to pay it would have taken them hours to reach the nearest clinic.
Over 300 women came on Sunday to attend the clinic and due to the nature of the illnesses, Rea and the other volunteers will try to return next weekend with another clinic.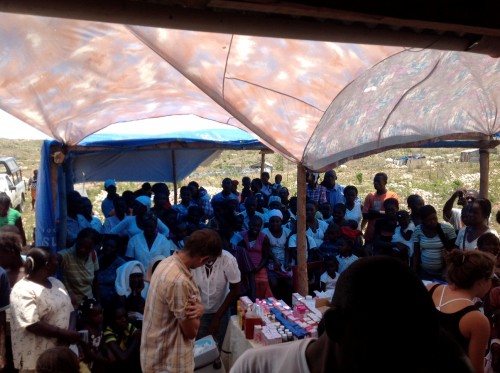 News